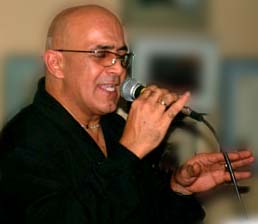 Daniel "Buddy" Monteiro - Lead Vocals, has been in the music business for 30 years, Buddy got his start by singing in church with his family at 6 years old, taking music lessons since the first grade. Buddy also plays the trumpet and keys and got his start professionally with well know saxophonist Mike Antunes of the John Cafferty & the Beaver Brown Band. That group (New Spices) also was comprised of
Chubby Tavares
(Tavares) and
Tiny Tavares
(Tavares) having conquered all the prestigious clubs in the Boston area.
While living in Washington D.C. Buddy had the opportunity to work with "The Young Senators" then D.C's top group. Buddy has been an opening act for many top performers such as Natalie Cole, Teddy Pendergrass, The Dramatics, Delphonics, Spyro Gyra, and was the first act to tour with "Blue Magic" when their record "Sideshow" was #1 in the country. Buddy recently followed Mariah Carey into the "New Palace Cabaret " in Halifax, Nova Scotia, performing six nights to a sold out house. The "New Palace Cabaret" is Canada's 2nd largest nightclub.
In recent years Buddy has devoted his talent to working the local New England circuit doing mostly functions, lounges, clubs, and private parties. In 2001 and 2002 Dajour and Buddy have done many political performances with Mayors of Providence, Boston, and New Bedford, most recently as headliner at the prestigious "Zeiterion Theatre" in New Bedford for the Mayor's Inaugaural Celebration. Daniel " Buddy" Monteiro has been influenced by many artists most notably Donny Hathaway, Eric Benet, Nat King Cole, Bobby Caldwell, and local favorite Armsted Christian, these are the artist Buddy draws his musical and spiritual inspiration from.